We are constantly posting updated on the development in the camp Lindenstraße on our social media channels. We hope that making visible what happens in the camps will strengthen the solidarity and the protest. To remind you: Lindenstraße in Vegesack is the biggest camp existing in Bremen with space for up to 700 people. It is run by AWO (The Arbeiterwohlfahrt (AWO) is a decentralised German welfare organisation being with around 210,000 full-time employees one of the largest employers in Germany.) The LASt (Landesaufnahmestelle) Lindentraße is the first reception center for all refugees arriving in Bremen except for unaccompanied minors, who are accommodated in a different camp. In the camp the residents share everything: The sanitary facilities, the eating areas and the rooms hosting 4-10 people. Different people live there, children and adults, young and old. What nearly all people have in common is a traumatic journey to reach Bremen. The camp has been the target of our protests many times before, but now, during the corona-crisis, we, the activists of TWAB both inside and outside of Lindenstraße are worried as never because we know how contagious and dangerous this virus can be and how impossible it is in Lindenstraße to practice protective behavior like social distancing. We know how harsh the AWO and the securities at the camp are treating the residents and we see, how disastrous the Bremen authorities, especially the social administration and the social senator are dealing with this situation. [This text was written on 16th of March when this update-blog started. This first timeline finishes on 31st March. Continue reading about the developments after the outbreak and the lock-down measures here]
31st of March
On Tuesday around 1pm TWAB activists are being alarmed because a person living in Lindenstraße is hindered to leave the site with a staff member telling him that Covid 19 is now inside Lindenstraße and noone is allowed to go outside anymore. Therefore some TWAB people decide to go to Vegesack to picture out together with the people inside what is going on. After about 30 minutes the gate was reopened again.
We arrived there and there is this fire alarm.. hundreds of people were outside standing next to each other.. it was not possible to maintain the advised social distance in this situation.. we also talked with some people and the confirmed positive case have raised the uncertainty and the level of fear is growing.. I think this case of corona in the camp is developing and people in lindenstraße will get more information later and it will be important to share it.. we have been signalling the authorities that it is a matter of time to have a case inside.. so now there is: what will be the reaction? Total evacuation!

TWAB activist
There was a lot of confusion and no information given. Three people could be seen still inside on a window not allowed to leave the building during fire alarm. There is a lot of uncertainty about the quarantine measures taken.
And also this evening people from the first floor were asked to go to the upper floors, I think they want to empty the first floor for the newcomers but even if that is their reason for this new action it is still not enough. Because the newcomers come through the same gate that everybody uses to go in and out.

TWAB activist inside Lindenstraße

30th of March
About 15 people are transferred from camp Lindenstraße to camp Alfred-Faust-Str in Kattenturm. There are already around 200 people. It is just the same bad mass accomodation with shared rooms with several people, shared toilets, poor access to information/WIFI, low quality food and NO SOCIAL DISTANCING possible.
Flüchtlingsrat Bremen is taking legal actions
The Bremen Refugee Council has today written to the Public Order Office to immediately close the initial reception facility in Lindenstraße because of the permanent violation of the general decree for the containment of the corona virus, in force since 23.03.2020. Today, the Refugee Council also filed criminal charges against unknown employees and persons responsible for the Senator for Social Affairs and the AWO, as they are suspected of having committed several violations of the General Decree./ Der Flüchtlingsrat Bremen hat heute das Ordnungsamt schriftlich aufgefordert, die Erstaufnahmeeinrichtung Lindenstraße wegen der dauerhaften Verletzung gegen die seit 23.03.2020 geltende Allgemeinverfügung zur Eindämmung des Corona-Virus unverzüglich zu schließen. Der Flüchtlingsrat hat heute außerdem Strafanzeige gegen unbekannte Mitarbeitende und Verantwortliche der Senatorin für Soziales sowie der AWO gestellt, da diese im Verdacht stehen, mehrere Verstöße gegen die Allgemeinverfügung begangen zu haben.
28th / 29th of March
Live in camp Lindenstraße goes on… bad health care, severe lack of precautions to spread Covid-19 infection, no privacy, no fresh air in the rooms, emotional/mental stress. Security, AWO staff and police don`t act as a supporting team, but often rather intimidate and belittle than listen to people who obviously cannot express themselves in German language.
Because of Corona we cannot visit people anymore to speak and free our minds. This is why it is even worse to bear the situation in the camps

Person who was transferred to camp Alfred-Faust-Str, Kattenturm
Good morning everyone🙏if disinfect table between intervals after people eat was enough for the Corona crisis then why is it that all restaurants close? The dining here is no different from any other restaurant.

Inhabitant of Lindenstraße
In fact there is not even basic info about corona. We don't know what's going on in here, we hardly noticed any presence of healthcare worker. We are been mingled with newcomers the very minute they arrived.
What happens is, when you're not feeling ok then you have to go to AWO to make an appointment for you regarding a doctor outside Lindenstraße. Depending on the time, it's almost impossible to make it to the doctor if not in the morning.

Inhabitant of Lindenstraße
It is not possible for you to see a doctor the same day. If you normally went there like when you are sick, they will make an appointment for you and it takes 3 days or 4 days until you meet a doctor.

Inhabitant of Lindenstraße
One of our brother had a problem with an Arab speaking cook here in Lindenstraße and the securities called more than 7 police officers. When they arrived they only listened to the Arab speaking securities and the cook. We want to speak to the police but the police refuses to listen to us, and they get our brother outside. They never want to listen to us ☹️☹️☹️☹️

Person witnessing a conflict situation in Lindenstraße
We tried to talk with the police but they gave us deaf ears

Inhabitant of Lindenstraße
They only listened to one side, they never listened to us

Person living in Lindenstraße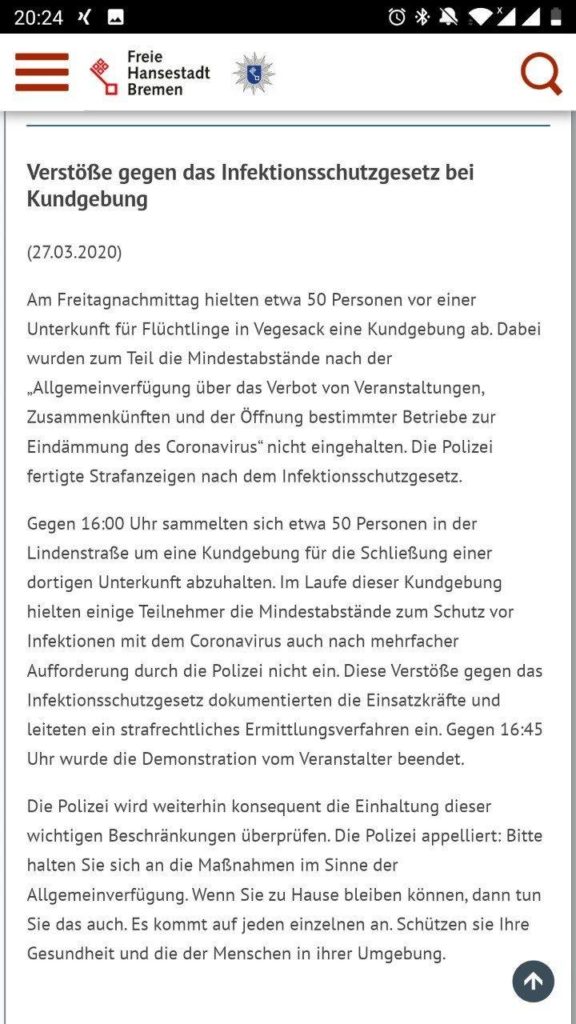 We come to realize that the police is preparing criminal charges under the infection protection law after yesterdays protest of activists from Lindenstraße demanding the shut down of the camp BECAUSE OF NEGLECTING infection protection law.
Amnesty International
Amnesty International is reporting about the impact of Corona crisis to the situation in refugee camps in Germany (Suhl, Thüringen and Lindenstraße, Bremen).
"Für viele Menschen, die auf der Flucht vor Krieg, Hunger oder politischer Verfolgung nach Deutschland gekommen sind, war dieser Ausnahmezustand bereits vor Ausbruch der Corona-Krise Teil ihres Alltags. Trennung von Familienangehörigen. Warten auf die nächste behördliche Entscheidung. Beengte Wohnverhältnisse. Trotzdem weitermachen. Hoffen.
Den Auswirkungen der Corona-Pandemie müssen sich die Geflüchteten besonders hart stellen. Dies betrifft insbesondere die mehr als 40.000 Geflüchteten, die derzeit in den Erstaufnahmeeinrichtungen der Bundesländer leben. In diesen Gemeinschaftsunterkünften wohnen häufig Hunderte auf engstem Raum zusammen. Was bereits unter Normalbedingungen eine Nervenprobe ist, kann in Zeiten von Corona schnell zu einer drastischen Situation heranwachsen.

Phillip John Koller und Tobias Oellig in "Geflüchtete in Zeiten von Corona"
https://www.amnesty.de/informieren/amnesty-journal/deutschland-gefluechtete-zeiten-von-corona
Bremer Rat für Integration
We learnt that Bremer Rat für Integration once again decided to NOT solidarize with migrants and refugees but support the position of the social senator: closing the camp is not a good idea + giving reasons that do not resist any further proofing. 🙅🏿‍♂️ / Gestern mussten wir erfahren, dass sich der Bremer Rat für Integration (BRI) erneut auf die Seite der Sozialsenatorin stellt statt sich mit Migrant*innen und Flüchtlingen zu solidarisieren. Der BRI positioniert sich gegen eine Schließung des Lagers aus denselben fadenscheinigen Gründen die einer Prüfung nicht standhalten.
https://bremer-rat-fuer-integration.de/aktuell/2020/zur-forderung-der-schliessung-der-erstaufnahme-fuer-gefluechtete
Ils inventent toujours de faux prétextes qui n'ont pas de sens pour ne pas assumer la responsabilité de leur faute. Ils savent tous ce qui s'y passe et nous aussi qui y vivons. C'est frustrant de jouer avec la vie des gens comme ça s'il y avait de meilleures conditions de vie, personne ne se plaindrait et si le camp leur plaisait tellement pourquoi ils ne viendraient pas y vivre?

They always invent phony pretexts that do not make sense so as not to take responsibility for their fault. they all know what's going on in it and so do we who live there. it's frustrating to play with people's lives like that if there was a better living condition nobody will complain and if the camp pleases them so much why they wouldn't come to live there?

Sie erfinden immer falsche Vorwände, die keinen Sinn ergeben, um keine Verantwortung für ihre Schuld zu übernehmen. Sie alle wissen, was darin vor sich geht, und wir, die wir dort leben, auch. Es ist frustrierend, mit dem Leben der Menschen so zu spielen, wenn es eine bessere Lebensbedingung gibt, wird sich niemand beschweren und wenn das Lager ihnen so gut gefällt, warum würden sie nicht kommen, um dort zu leben?

Young refugee who has been living in Lindenstraße for 1 whole year
We therefore decided to post HERE an open letter we sent to the Bremer Rat für Integration in August 2019. Not only did they not reply to it, they actually hid this from their members. As you can see it is quite relevant to the current situation and as we predicted in this letter, they now have the Welcome Initiative in Bremen Nord to advocate what they want them to do. As the members of the Welcome Initiative have been voluntarily supporting refugees in Lindenstraße for several years the BRI prefers to promote their statement and thus delegimatize the voice of self-organized refugees. / 🙅🏿‍♂️ Wir haben aus diesen Gründen entschieden HIER einen Offenen Brief zu veröffentlichen, den wir im August letzten Jahres an den Bremer Rat für Integration gesendet haben. Sie haben nicht nur nicht darauf geantwortet, sondern dies auch vor ihren Mitgliedern verheimlicht. Wie nun deutlich wird, ist es für die aktuelle Situation relevant, denn wie wir schon in diesem Brief vorhergesagt haben, haben sie jetzt die Willkommensinitiative in Bremen Nord, die in ihrem Sinne agiert. Weil deren Mitglieder seit Jahren Geflüchtete in der Lindenstraße ehrenamtlich unterstützen erscheinen sie dem Bremer Rat für Integration als legitimere Position als die Stimmen selbstorganisierter Geflüchteter.
Press statement of Flüchtlingsrat on the topic of Bremer Rat für Integration is released.
27th of March
10 days after having started this campaign to speed up the shutting down of camp Lindenstraße because of corona crisis, this is where we are:
Merci à vous tous d'être venus et de nous apporter votre soutien. Ce fut une belle journée et le meilleur reste à venir. étant donné ce qui s'est passé aujourd'hui, les travailleurs du camp auront du mal à dormir car ils devront chercher un autre emploi car le camp sera bientôt fermé 👆 #Together_We_Are_Bremen # Shut_down_Lindenstraße
Thank you to all of you for coming and giving us your support. It was a great day and the best is yet to come. given what has happened today the camp workers will have trouble sleeping because they will have to look for another job since the camp will be closed soon 👆 #Together_We_Are_Bremen # Shut_down_Lindenstraße
Vielen Dank an alle, die gekommen sind und uns Ihre Unterstützung gegeben haben. Es war ein großartiger Tag und das Beste kommt noch. Angesichts dessen, was heute passiert ist, werden die Lagerarbeiter Schlafstörungen haben, weil sie sich nach einem anderen Job umsehen müssen, da das Lager bald geschlossen wird. #Together_We_Are_Bremen # Shut_down_Lindenstraße

A TWAB activist who has been living for 1 year in Lindenstrasse
Resistance is the only weapon against this whole shit

Resident of Lindenstraße
They actually don`t need to shut down Lindenstraße if they like it so much. They only have to relocate the people there to other places in Bremen and they themselves can relocate their offices and apartments there

TWAB activist
That`s good improvement we should keep on pressing them until they fulfil our demands. Together we can

TWAB activist
Let`s keep the fight until the camp is finally shut down

TWAB activist
Humanity first Humanity is everything. Only one race, the human race.

Person from camp Lindenstrasse
A big THANKS and APPRECIATIONS TO each and everyone who showed up and even those who couldn't make it but were behind the keyboards day to night to see this happen. Thanks again, we love and appreciate you all for standing by us 🙏🏽✌🏽💪🏾💯

TWAB activist
This afternoon residents of camp Lindenstraße made a small rally. The original idea of the residents was to have a demonstration of all household-members who wish to participate from camp Lindenstraße to Sedanplatz and back. This idea came up after realizing once more how the corona restrictions aim to protect the society-members who have a home and a normal life but not those in a refugee camp of hundreds of people. The authorities in a first step restricted the demonstration to 50 people (an already small amount of a household of nearly 700) until this morning the protest became restricted to 10. This was not acceptable. Finally the demonstration was turned into a rally and spectators came to support the protest on the parking space of the camp – keeping distance to each other, of course.
Less than a few hours later the protests show first results: social authorities is beginning to react. We have to wait and see if the words are followed by action.
"Die Sozialbehörde reduziert die Belegung in der zentralen Erstaufnahmeeinrichtung für Geflüchtete (Zast) an der Lindenstraße. Seit Freitag werden 100 Bewohner in eine Jugendherberge verlegt, teilt das Ressort mit. Die Umzüge sollen in der kommenden Woche abgeschlossen sein. Verlegt würden Flüchtlinge, die nicht auf regelmäßige ärztliche Versorgung angewiesen seien. Weitere Umzüge sind geplant. In den kommenden Wochen sollen rund 200 Plätze in Übergangswohnheimen zusätzlich belegt werden. "Wir schaffen derzeit die Voraussetzungen dafür", sagt Senatorin Anja Stahmann. Außerdem werde ein weiteres Übergangswohnheim mit zunächst rund 100 Plätzen vorbereitet."

Weser Kurier, 27.3.2020
The social authorities are reducing the occupancy rate in the central initial reception facility for refugees (Zast) on Lindenstrasse. Since Friday, 100 residents have been transferred to a youth hostel, the department informs. The relocations are to be completed in the coming week. Refugees who are not dependent on regular medical care will be relocated. Further relocations are planned. In the coming weeks, about 200 additional places in temporary residences will be occupied. "We are currently creating the conditions for this", said Senator Anja Stahmann. In addition, a further temporary residence with initially about 100 places is being prepared.
Translated with www.DeepL.com/Translator (free version)

Translation of Weser Kurier, 27.3.2020
Full article: Corona-Krise. Flüchtlinge verlassen Erstaufnahme.
https://www.weser-kurier.de/region/die-norddeutsche_artikel,-100-bewohner-wechseln-in-jugendherberge-_arid,1905150.html
Berichterstattung bei buten un binnen: Angst vor Corona-Ansteckung in der Flüchtlingsunterkunft
https://www.butenunbinnen.de/videos/gefluechtete-unterkunft-demonstration-zustaende-corona-100.html
26th of March
Shut down Lindenstraße…Women and children! We cannot live without our lives. Corona is hurting us from the inside

Resident of Lindenstraße
This morning we could read an article in the Bremen newspaper Weser Kurier (they used a photo of a protest we made about 1 year ago):
https://www.weser-kurier.de/bremen/bremen-stadt_artikel,-bremer-fluechtlingsbuendnis-fordert-schliessung-der-landeserstaufnahmestelle-_arid,1904786.html
Our main positions are published:
Camps are bad places already in normal times. In times like now they are even worse.
Social Distancing is not possible in a camp where everybody is sharing the same bathrooms und dining room.
They refuse to acknowledge the same rights of protection against corona.
It is a question of time until there is the first case of corona in Lindenstraße. We fear that the authorities then will lock up the people under unbearable conditions with all their fears. There is the risk that people panic inside.
First the authorities create very bad conditions with the result that public health service has to be on site, than the say: we cannot evacuate because there is no public health service in other places.
Even the authorities know: nobody can be deported for now, there are no asylum interviews these days. So nobody has to be available in the camp and it is not necessary that people stay there.
Everywhere things are changed in these days of which nobody thought it would be possible to change them. It is structural racism that there is no change for refugees.
25th of March
A new press statement was published by social authorities today informing about actions that are taken "to protect refugees"
https://www.senatspressestelle.bremen.de/sixcms/detail.php?id=332438&asl=bremen02.c.732.de
People made translations to different languages so that people inside Lindenstraße are aware of this information:
Actions to protect refugees in the Landeserstaufnahme
Approximately 30 persons with an increased risk of a severe course of disease in case of an infection with the coronavirus COVID-19 are leaving the first state reception centre for refugees in Vegesack and are now being accommodated decentrally. This was announced by Social Senator Anja Stahmann today (24 March 2020). Last week, a comprehensive survey of all persons who, according to the criteria of the Robert Koch Institute, bear an increased risk was conducted. These include people with cardiovascular diseases, diabetes, diseases of the respiratory system, liver and kidney as well as cancer, with immune deficiency or a suppressed immune system due to taking cortisone, for example. The regulation based on individual case decisions also applies to four persons over 60 years of age (included in the 30). However, the initial admission remains a joint institution for people who, according to the publications of the Robert Koch Institute, do not carry any risk of a serious course of disease. "In no other institution can we offer local health care," emphasized Senator Stahmann. She added that the presence at the state initial reception was also important for the asylum procedure. All newly arriving refugees would first be isolated, tested for COVID-19 and only be transferred to the admission procedure if the test was negative. "We haven't had a single positive result so far," said the Senator, "nor a case that the Health Department has assessed and tested as a suspect case. Since the end of February, residents have been kept informed of the situation by means of multilingual notices and flyers as well as in personal interviews. Strict admission controls ensure that visitors are not allowed to enter the initial admission area. Meals are now served as single portions, and cleaning intervals have been increased. "Community facilities are particularly sensitive areas," said Senator Stahmann. "The measures taken are intended to protect the residents of the facilities."
Inhabitants of camp Lindenstrasse reacted to this fresh version of the state of the art – dealing corona crisis in Lindenstraße:
Their press statement is really misleading…It's really insane how everything is kept secret here… could you believe that we can't still confirm the suspected covid19 case in Lindenstraße. Even though we tried to

Resident of Lindenstraße
Am not sure if 30 people been transferred and didn't know of anything like this here or know anyone of them.
What I know is that few days ago some people were given a letter that they'll be transferred outside bremen.

Inhabitant of Lindenstraße
The food that they are making is very poor and everything in Lindenstraße is not good at all, cause all the windows are locked down, we cannot even have good air. Everything is poor.

Person living in Lindenstraße
The only good thing about the virus is that it is not an airborn disease if not our stomach would have been occupied with not only covid 19 but covid 19 x plus

Resident of Lindenstraße
This is to give proof of the meal situation on 25th of March:
People are suffering constantly in camp Lindenstraße because they are not allowed to breathe fresh air.
"That is the air pipes, through this pipes we can breathe. All the windows are closed, I ask why, but no answer for my questions."

Resident who documented the breathing pipes
24th of March
People living at this moment in camp Lindenstrasse are sharing their perspectives on the situation after being informed about the social authorities press release on butenunbinnen
Vivre dans des conditions pareilles a lindestrasse est un grand risque pour la santé des personnes qui vie a lindestrasse

Inhabitant of camp Lindenstr, 24.3.2020
Here is Lindenstraße,All the windows are locked dawn no much air space is very sad for this Camp you cannot imagine how people are living in this kind of situation, Since I came to this camp this windows are always locked morning afternoon evening everyday and night the windows are haven't security lock this is the prof, all the windows in Lindenstraße are lock dawn my the security locks.how can white peoples live in this kind of condition can you believe that this must stop is a big embarrassment for refugees no windows will open continue like this ?

Resident of camp Lindenstr, 24.3.2020
ils ne controlle rien dans l'ordre à Lindestraße nous meritons pas de vivre de cet maniere dormir a 3 , 4, 5 dans une Chambre a cet Periode dont nous vivons est horrible protegeons nous vivan !

Resident of camp Lindenstr, 24.3.2020
No 😲
As of saying that they are putting new comers in quarantine is not true. I see the new comers like the old ones who have been here, we all eat together and share everything together.
Regarding the food being foil is another lie. The food is still shared on a plate where you have a bread, fork, knife and tissue. But the food isn't coverd at all despite It's a crowdy hall, at times the foods are placed on top of the desk or counter for about few minutes before another one can collect it, and in the process it get cold.
Regarding distancing when lining up to collect our food. yes there are marks on the floor between us but the we are still going to seat closed to one another and eat. Does it make any sense????
Regarding cleaning. Yes they clean the table and the floor after each floor/estage but that's normal to hygiene.

Person living in Lindenstraße for 3 months
I think Schneider himself should have confirmed things before putting up a press statement. It's really misleading regarding their press statement 😢

Resident of Lindenstr, 24.4.2020
Dans la salle à manger à lindestrasse nous sommes très proche l'un à l'autre, mais comment seront nous protégé face à ce t'épidémie .

Person living in camp Lindenstr, 24.3.2020
[24.3., 10:44] Certe ils ont tracés des lignes d'un mètre d'écart mais dire qu'ils ont séparés les gens dans de petite chambre c'est archi faux nous dormons tous ensemble 3,4,5 ou 6 par chambre. Nous partageons les mêmes tables à manger et les mêmes toilettes. Nous sommes tous exposés ici il n'y à aucune distance.
[24.3., 10:45] Certainly they have drawn lines of a meter apart but to say that they have separated people in small rooms is very wrong we all sleep 3,4,5 or 6 per room. We share the same dining tables and the same toilets. We are all exposed here there at no distance.
[24.3., 10:46] Sicherlich haben sie Linien von einem Meter Abstand gezogen, aber sagen wir, dass sie Menschen in kleinen Räumen getrennt haben. Es ist sehr falsch, dass wir alle 3,4,5 oder 6 pro Raum schlafen. Wir teilen uns die gleichen Esstische und die gleichen Toiletten. Wir sind alle hier ausgesetzt, es gibt keine Entfernung.

Person who has been living in Lindenstr for 1 year
Another photo to show the eating situation:
Press release of the Flüchtlingsrat: Shut down Lindenstraße immediately!
On buten un binnen there is an announcement of Bremen social authorities: No infections in Bremen refugee camps
23rd of March
Red and white tape is marking newly defined no-go areas in the "garden/yard" that belongs to the four-storey building: Sitting in groups outside in the sun is forbidden. Playing football on the ground inside the fence is forbidden. Kids are not allowed to play outside on the playground any more, but at the same time it is tolerated that they run around and play inside. And of course people sit together with 10 people in their rooms and also people sit together to eat in groups of 100 or 200 people.
22nd of March
Message from Lindenstraße. Share it on your social media channels! Also on Twitter and Instagram.
Newspaper coverage
"Wenn Abstand halten unmöglich ist" – "When distancing is impossible". An article in German wide newspaper ZEIT about the situation in refugee camps. Bremen is also mentioned.
Die Zeit (22.03.20): Wenn Abstand halten unmöglich ist
Many voices from Lindenstrasse keep us updated throughout the weekend (21./22. March) – TWAB activists maintain the contact as close as we can.
21st of March
Solidarity all over Bremen
On 21st of march, the international day against racism, many people started to put out banners to protest against the extreme exclusion refugees at the European borders but also in camps in Bremen experience and to show solidarity with all the affected. These are a few which we spotted ourselves or which were sent to us. Put out your own banner! We will keep updating this gallery.
Hausverbot to the streets during #stayathome?!
Saturday morning we come to hear of a "transfer" inside Bremen: a transfer into the homeless system
// Am Samstag morgen erfahren wir auch von einer Umverteilung innerhalb Bremen: ins Obdachlosensystem
"Hallo. Yesterday in the evening in Lindenstrasse security comes to tell me that I should leave the camp. I asked them what is my problem. Security told me that is a transfer. But when I went to this place the people tell me this is for only to sleep there. Around 6 oclock in the evening and around 8 oclock in the morning I should leave. Right now I am outside, I dont know where to go. I dont know what is my crime"

Person who was thrown out of Lindenstraße
This ban from Lindenstraße leaves the young person basically on the street during daytime. "Notunterkunft" is not a safe place it is only to avoid sleeping on the streets during nighttime.
Impressions of the living conditions in Lindenstraße:
Press release of the Bremen Flüchtlingsrat
"In ganz Bremen stehen derzeit Hotels, Hostels und Ferienappartements leer. Diese kann die Sozialbehörde anmieten, leergezogene Unterkünfte können reaktiviert werden", erläutert Gundula Oerter vom Flüchtlingsrat Bremen.
Read the press release here: Gleiche Rechte beim Schutz vor Corona (21.03.20)
20th March
Petition: Schließt Massenunterkunft Lindenstraße – schafft sichere Wohnsituation für Geflüchtete!
Because of the lacking response of the authorities we decided to make a petition and gather support in this way. Sign the petition!
Because the petition text is in German we also published it in English here.
Continuation of transfers also during corona-crisis
The authorities in Lindenstraße are blocking the cards of at least two persons on 20th of march 2020 and forcing them to go on transfer. They are forced to use public transport travelling through the whole country when at the same time people who are not living in camps are asked to stay at home!
// Die zuständige Stelle in der Lindenstraße hat noch am 20.3.2020 die Plastikkarten von mindestens zwei Bewohner*innen blockiert. Damit werden die Menschen gezwungen einer angeordneten Umverteilung zu folgen. Sie müssen also in Züge steigen und quer durch Deutschland reisen während der restlichen Bevölkerung geraten wird unbedingt Zuhause zu bleiben!
Statement of the alliance "We'll come united", the Refugee councils in Germany and the Medibüros/Medinetze (20.03.20): Appell vom 20. März 2020: Gesundheitsversorgung sicherstellen! Lager auflösen! Menschen und ihre Rechte schützen!
The statement shows once more: the coronacrisis is hitting refugees the hardest, no matter where. Resistance and solidarity do not know any borders.
Newspaper coverage
The newspaper taz is reporting about the situation in camp Lindenstraße in the corona crisis.
taz (20.03.20): Geflüchtete im Heim alleine gelassen – Ungesunde Unterkunft
17th of March
Report about the conditions in Lindenstraße
In the report, residents describe the lack of information and the severe lack of hygiene they experience in the camp and how they feel having to live there during the corona-crisis. Read the German translation here.
16th of March
Growing fears and a massive lack of information demands equally for a meeting. A delegation from Together We Are Bremen / Bremen City is meeting the friends who have to live in camp Lindenstraße on Monday 16th.
// Wachsende Befürchtungen und ein großes Informationsdefizit sind der Grund für ein Treffen am 16.3. Eine Delegation von Together We Are Bremen aus Bremen-Stadt trifft die Freunde, die im Lager Lindenstraße leben müssen – auf dem Parkplatz.
Before Corona: What we have to say about Lindenstraße
Already before the corona crisis TWAB has reported about and protested against the conditions in Lindenstraße many times. Read the following texts to get a general impression of what living in this camp means for real.

19.09.19: Living in Lindenstraße – a report on the living conditions in the camp // FRANÇAIS // DEUTSCH
08.07.19: Protestaktion: Rassistische Gewalt in der Lindenstraße (DE/FR/ENG)
31.05.19: We demand the immediate termination of the contract with the security company at camp Lindenstraße (DE/ENG)
26.05.19: Rally against violence of camp-securities in Lindenstraße (ENG/DE)