Show your solidarity, get creative!
Zur Zeit ist es gar nicht so einfach politisch Position zu beziehen – sich für Demonstrationen zu versammeln trifft auf weitreichende Auflagen, zu Veranstaltungen kann man nicht mehr gehen, weil Veranstaltungen zur Zeit verboten sind. Deshalb rufen wir euch auf: Werdet kreativ! Viele Menschen zeigen aktuell schon ihre Solidarität, indem sie Transparente aus ihren Fenstern hängen oder Schilder an ihren Türen befestigen.
Für alle, die keine Zeit (oder Lust) haben selbst kreativ zu werden, haben wir ein paar Ideen für Schilder, die ihr unkompliziert zuhause ausdrucken könnt hochgeladen. Diese wurden uns von anderen zugeschickt (und eins ist ein Entwurf des Bündnis "Welcome united"), wir nehmen deshalb diese Designs nicht für uns in Anspruch!
Currently it is not as easy to make a political statement – gathering for demonstrations is meeting heavy restrictions, going to events is impossible as all kind of events are prohibited. That's why we call on you: Be creative! Many people are already showing their solidarity by putting banners out of their windows or having signs at their doors.
For all who don't have the time to get creative themselves we uploaded ideas for signs you can easily print at home. Other people sent these to us (and one is a design of the alliance "Welcome united") so we do not take any credit for the designs!
Diese Datei am besten als .pdf herunterladen (das Bild hier ist nur ein Screenshot, um sich vorzustellen, wie das am Ende aussieht.
This file should be downloaded as .pdf (the picture is only a screenshot so you can imagine, what it will look like in the end)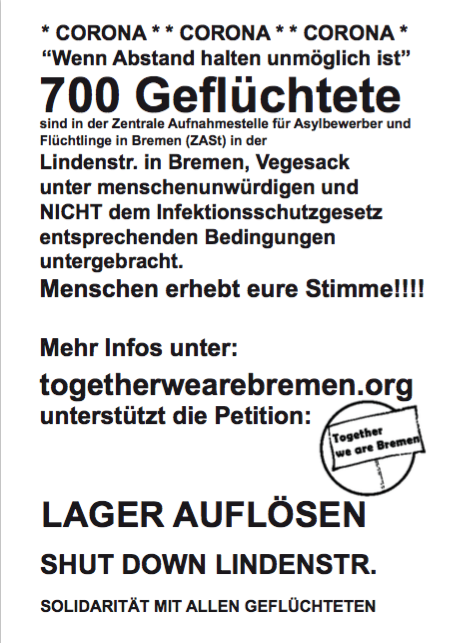 Diese Datei kann ebenfalls als .pdf heruntergeladen werden.
You can download this file as .pdf as well.
Der Drucker kann nur A4 drucken, aber ihr wollt euer ganzes Fenster zukleben? Mit dem Tool PosteRazor könnt ihr das Poster in kleinere Bestandteile zerlegen, sodass euch mehrere A4 Seiten ausgegeben werden, die ihr am Ende zu einem großen Poster zusammenkleben könnt.
Your printer can only print A4, but you want to cover your whole window with the poster? With the tool PosteRazor you can split the poster into smaller parts, so that you get several A4 pages, which you can glue together to a big poster at the end.
Wenn ihr wollt, könnt ihr am Ende ein Foto von eurem Schild machen und es in den sozialen Medien teilen. Lasst noch mehr Leute als diejenigen, die auf der Straße vorbei laufen wissen, was ihr davon haltet, wie Geflüchtete in Lagern behandelt werden – in Bremen, an den Außengrenzen, überall!
In the end, feel free to take a picture of your sign and post it on social media! Let even more people than those passing by in the streets know, what you think about how refugees are treated in camps – in Bremen, at the borders, everywhere!