I speak here today on behalf of Together We Are Bremen. In particular, I speak here in the name of the several women and mothers whose children are being denied their due birth certificates by the Bremen Standesamt. Although the fathers of our children are here and are documented officially by Jugendamt as their fathers, the Standesamt refuses to record the fathers of our children in the birth register.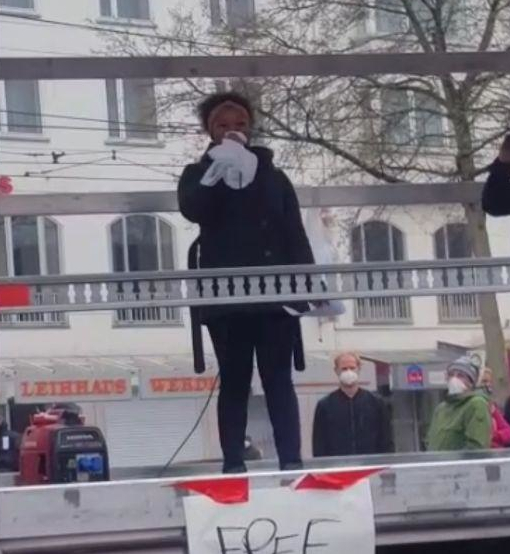 As a result, the migration office denies to state the German nationality of our children and denies to give us, the mothers, the residence permit we are actually entitled to get.
As you all may know, we have been on the birth certificate campaign now for several months. We protested in front of the Standesamt, we protested in front of the Internal Ministry, we protested in front of the Migration office. We do not protest because we like to be on the streets. We protest because our basic rights and the rights of our children are violated in this city of Bremen. Some of us are now in debt because of the enormous fees the Standesamt charged us for them to verify our papers in our home countries. For many of us, we paid over 600€ for them to do this verification. Yet after that, they are refusing to issue our children's birth certificates with the names of their fathers on it.
Therefore, our clear demands are:
– Complete birth certificates with the father's name of our children!
– Declaration of the German nationality of our children by the Migration Office!
– Residence permits for us as mothers of German citizens!
These demands are non-negotiable and we state them without compromise or apology!!
Bremen prides itself as a very diverse and multicultural city. Recently, it even decorated itself with the gorgeous slogan: "A safe Harbour". Yes, we are part of this diverse and colourful city, but we do not feel safe in this fake safe Harbour. We as Black single mothers here do not feel safe because our rights are being violated by the Standesamt and Migration Office. A white German mother is never asked the intimate and humiliating questions they ask us and their children are rightly never denied their birth certificates. So WHY US? I ask again, WHY US?
My friends, let me tell you the reason. The reason is RACISM. It is racism because what they are actually aiming at is to deny these children and we their mothers, any chance of settling down here and being part of this society. Do they really want to control Germans not to have relationships with people without German papers?
Let's be clear about it, the real reason is this: They don't want Black kids here with their parents. They want Bremen to continue to be a white society. Otherwise, how can anyone explain these ugly and illegal actions? But I want to assure you all, try as they might, they are going to fail because we are here and we will fight, we are here and we will stay!!!
At the Standesamt, they are going to extraordinary lengths to deny these children their rights, violate the constitution and the UN Convention on children's right that Germany signed. Yet, there is a deafening silence from the Senator responsible for children and women. Are these children and their mothers not part of your portfolio because we are Black? Where are you and what are you doing? SHAME ON YOU!!!
Bremen is a city with a very high rate of single mothers and we are a part of that. We take care of our kids ourselves just like many other mothers in Germany. We rely on our strength and determination to raise our children with the support of our communities. Yet they are creating difficulties for us to realise this.
Rather than deal with the undeniable reality that we are here to stay and that our kids don't need to campaign on the streets to get their birth certificates, they want to criminalize us. Instead of giving us our rights, the Bremer authorities think about how to make new and stricter rules to make it even more difficult for us.
If they didn't already know this, let them hear it now:
We are neither the victims nor criminals that they want to make us into!!
We are just normal wonderful mothers with beautiful children who should not be punished for no reason by the Standesamt and Migration Office!
We are strong and resilient and that is why we are not going anywhere! The earlier they recognise this the better for everyone!
Dear friends and comrades, today is the International workers fighting day and it is a day when solidarity with all the oppressed and marginalised should be strongly displayed. But it is also beyond the workers. Most of us from TWAB are not working but we are very familiar with what it means to be marginalised, discriminated against, exploited, abused and brutalised particularly in a white supremacist society.
We also know that we are not alone with these atrocities. Therefore, it is quite heartening and encouraging that we are here today in that spirit of solidarity that is May 1st, to share our pains and pleasure, to share our hopes and aspirations, to share our encouragements and disappointments. And above all: to share our hope and belief that together, WE SHALL OVERCOME!
Finally, I would like to invite you all to our next Protest Action on the birth certificates on Thursday 27th May at the Marktplatz. We want to show them that we are here to stay!