PRACTICAL SOLIDARITY – SUPPORT NEEDED!
Because of the collective quarantine at Lindenstraße, the conditions at the camp have become even harder to bear. The food that is served at the camp does not meet the needs of many people there at all. It is not possible to go out and buy extra food or other essentials like usually. Especially for pregnant women, breastfeeding women and babies the situation is critical (yes, you may wonder why this group of people has to stay at all in quarantine with so many people).

Therefore we have built up a solidarity structure which cooks food and does grocery shopping for the people at the camp everyday. Because even in isolation, no one in the camp is left behind! This structure needs your support.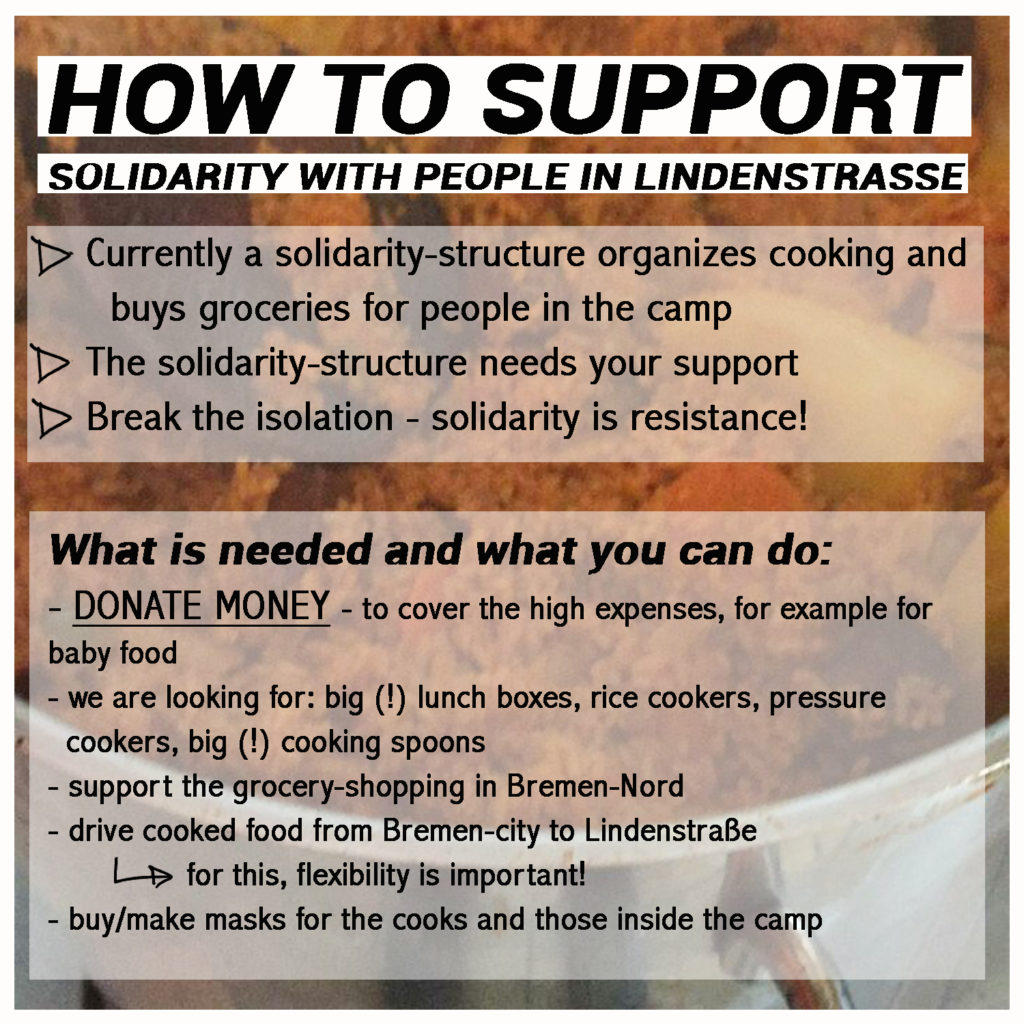 Donate money:
Either cash (makes it less complicated for us, send a message) or via transaction to the account of BreSoC e.V.

These are the account details:
Account holder: Bremen Solidarity Centre (BreSoC) e.V.
IBAN: DE92 4306 0967 2074 0487 00
BIC: GENODEM1GLS
Reference: TWAB – Spende Solidarity Corona Lindenstraße
About the stuffs we are looking for: We cannot guarantee that the lunch-boxes will find their way back to you. Everything else we will return to you after the currentsituation is over.
Text us if you can support in any way!
Either on Facebook, Instagram, Twitter or via e-mail.
//
PRAKTISCHE SOLIDARITÄT – UNTERSTÜTZUNG GEBRAUCHT!
Durch die kollektive Quarantäne in der Lindenstraße sind die Bedingungen im Lager noch unerträglicher geworden. Das Essen, das im Lager gibt, entspricht den Bedürfnissen vieler Menschen dort überhaupt nicht. Es ist nicht möglich, wie sonst üblich, zusätzliche Lebensmittel oder andere lebensnotwendige Dinge zu kaufen. Besonders für schwangere Frauen, stillende Frauen und Babys ist die Situation kritisch (ja, die Frage, warum diese Personengruppe überhaupt mit so vielen Menschen in Quarantäne bleiben muss, ist angebracht).

Deshalb haben wir eine Solidaritätsstruktur aufgebaut, die täglich für die Menschen im Lager kocht und Lebensmittel einkauft. Denn selbst in der Isolation wird niemand im Lager zurückgelassen! Diese Struktur braucht eure Unterstützung.
Spendet Geld:
Entweder in bar (macht es für uns unkomplizierter, schickt uns eine Nachricht) oder per Überweisung auf das Konto des BreSoC e.V.

Dies sind die Kontodaten:
Kontoinhaber: Solidaritätszentrum Bremen (BreSoC) e.V.
IBAN: DE92 4306 0967 2074 0487 00
BIC: GENODEM1GLS
Referenz: TWAB – Spende Solidarität Corona Lindenstraße
Bezüglich der Dinge, die wir suchen: Wir können nicht garantieren, dass die Tupperdosen den Weg zu euch zurück finden. Alles andere werden wir zurückgeben, wenn die aktuelle Situation vorbei ist.
Schreibt uns, wenn ihr uns in irgendeiner Weise unterstützen könnt!
Auf Facebook, Instagram, Twitter oder via E-Mail.