On 11th of January we organized the first Together we are Bremen workshop-day! It took place in the framework of the "Banana Island Prolog" organized by the Apocalyptic Dancers as prolog of their performance in Schwankhalle.
// Am 11. Januar haben wir den ersten Together we are Bremen Workshoptag organisiert! Dieser fand statt im Rahmen des Banana Island Prologs, der von den apokalyptischen Tänzer*innen als Prolog Performance in der Schwankhalle organisiert wurde.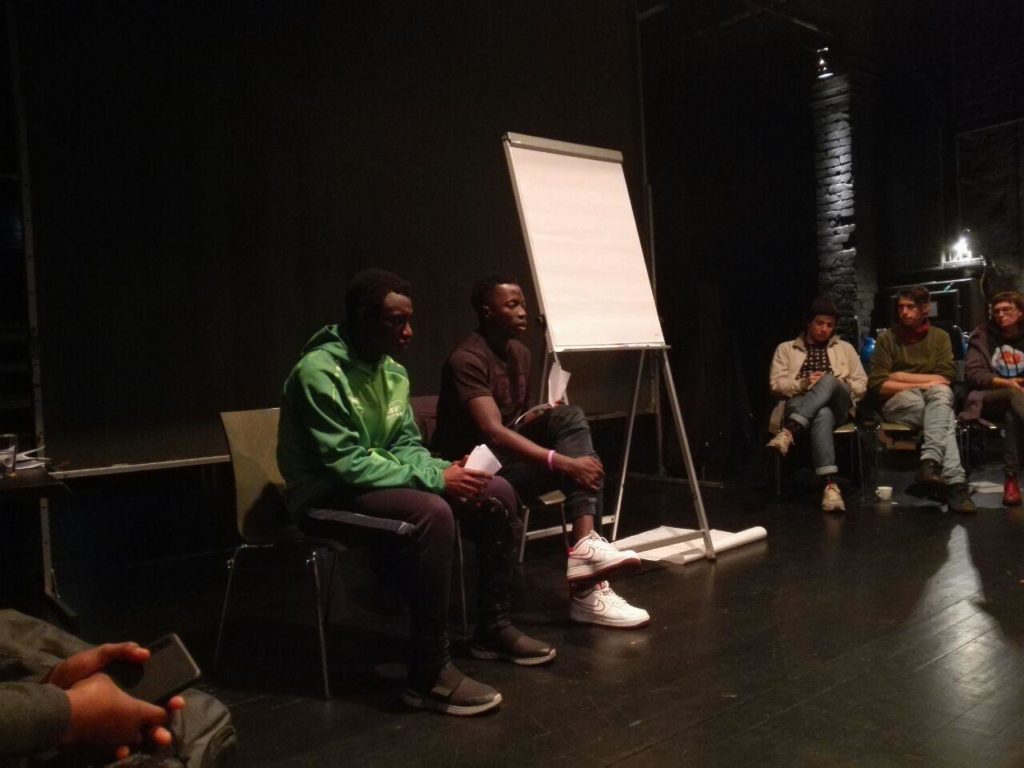 This was something new: we invited people to get to know TWAB in the two workshops. In the first workshop we discussed the European border regime which is moving the border further and further into the African continent.
In the second workshop we introduced the topics of self-organizing and solidarity. Understanding the special challenges that young refugees and migrants face is crucial to understanding how solidarity with groups as Together we are Bremen needs to look like.
Doing this workshop day was a really great and empowering experience.
We're happy that we created this space for us to share our experience and perspective and for others to listen and learn. We thank everybody who joined, listened and contributed with their questions and own perspectives!
A big thank you goes to the collective of the apocalyptic dancers who organized the day together with us!
// Der Workshoptag war etwas Neues: in zwei Workshops haben wir Leute eingeladen TWAB kennen zu lernen. Im ersten Workshop haben wir über das europäische Grenzregime gesprochen, dass die europäische Außengrenze immer weiter in den afrikanischen Kontinent verschiebt.
Im zweiten Workshop ging es um die Themen Selbstorganisierung und Solidarität. Es ist wichtig die besonderen Herausforderungen, denen junge Geflüchtete und Migrant*innen gegenüberstehen, zu verstehen, um zu erkennen, wie Solidarität mit Gruppen wir Together we are Bremen aussehen kann.
Der Workshop-Tag war eine großartige und empowernde Erfahrung. Wir sind froh, dass wir für uns einen Raum geschaffen haben um unsere Erfahrungen und Perspektiven zu teilen und für andere zum Zuhören und Lernen. Wir danken allen, die mitgemacht haben und ihre Fragen und Perspektiven eingebracht haben! Ein großes Dankeschön geht auch an das Kollektiv der apokalyptischen Tänzerinnen, die diesen Tag mit uns organisiert haben.